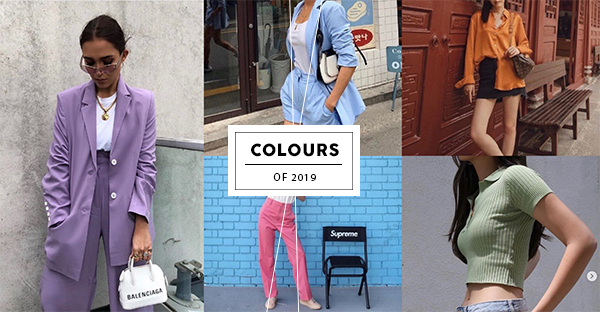 Leave Your Neutrals Behind! 6 Colours You Should Apply On Daily Ootd, That Will Make You An Attention Seeker
Forget about neutrals, we are leaving black, white and grey clothing behind and going for brighter colours instead! We know, if you are a black-and-white-person like me, it's a tricky business to wear colours from head to toe. But after seeing all the unique colour outfits by the street style stars, surprisingly I wish to try them all.
Read More: The Newest Way To Wear Lace-Up Sandals, As Told By The Instagram Influencers
Read More: Ask Team #PopDaily: Attire For Presentations, How To Dress Professionally
For the beginners, here's a trick for you: pick one colour then keep the rest minimal and neutrals. Don't get the picture? Here, we've listed out 6 colours of 2019 you should apply on daily #OOTD. Let's see how the street style stars styling them and proving that wearing colours can be extremely polished and cool.
SLIME GREEN
Undeniable it's the biggest colour of the year. We've literally seen it everywhere, no matter on Instagram or on the streets. I swear you will be extremely eye-catching with slime green from head to toe. But hey, what if I want to wear this colour but not too much? Easy, a set of neutrals with a pop of slime green.
Even on your shoes, or nails.
PISTACHIO GREEN
Or we call it, avocado-green. Not as bright as slime green but a muted shade of green. One of the biggest colour of 2019 too and it goes well with your daily outfit more than you'd expect.
BURNT ORANGE
Brownish orange tone. Personally think that it's colour of autumn (or in our case without four seasons, whatever, we wear it from day to night).
CANDY PINK
To those who think that pink isn't their colour, be warned. Maybe you will change your mind. Whether you like it or not, pink does not necessarily equate to girly, but feminine.
Read More: From Primer To Setting Spray, A Guide On How To Sweat-Proof Your Make Up
Read More: These Mascara Make You Look Like Having Eyelash Extensions On (When You Really Don't)
SKY BLUE
This colour seems to have the most calming effect and it's such a refreshing colour.
Read More: Makeup Products From Kylie Cosmetics You Need To Add To Your Cart
Read More: The Newest Way To Wear Lace-Up Sandals, As Told By The Instagram Influencers
LILAC
Have you heard about lilac is a colour that brides dress their bridesmaids in if they don't really like them? Nah, but not now. Lilac hues are everywhere and imagine wearing lilac on a lavender farm (why not!)
Now, here's this question: with all these colours applying on your daily outfit, how can people on the streets not look at you? Eye-catching and outstanding! Start wearing these colours now and we can't wait to see your #OOTD!
Read More: 7 Fashion Trends You Need To Know If You Love Korean Style
Read More: 18 Minimalist Nail Art Ideas Proving That Less Is More
Read More: Ask Team #PopDaily: Makeup Brush Cleaners That Keep Your Brush Look As Good As New
PopDaily Malaysia is officially online. Follow us on

Facebook & Instagram for more fashion and beauty tips, goodies and updates!