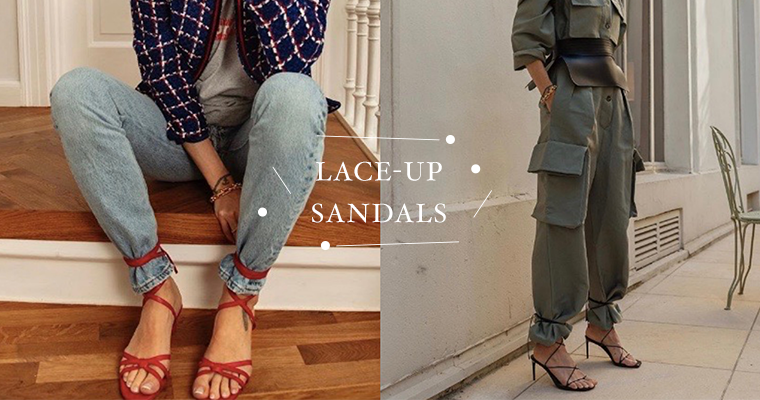 The Newest Way To Wear Lace-Up Sandals, As Told By The Instagram Influencers
Trend report! When someone mentions "summer shoes", sandals most probably the first thing that pops into your head. And now, there's this latest trick of wearing lace-up sandals you have to try before summer ends.
Developed by the Instagram influencers, where lace-up sandals tied over trousers or jeans is the latest trend and styling trick that blew up after Bottega Veneta's Resort 2020 Collection. This secret styling trick has brought a glorious breath of fresh air to our daily wardrobe and it upgrades your outfit to a whole new level, to something more interesting. Let's see how it girls wearing this trend!
https://www.instagram.com/p/B0aPEBnib09/
Baggy Jumpsuit + Lace-Up Heels
Baggy jumpsuit with a minimalist lace-up heels, and the addition of gold accessories to balance out the proportions. Definitely your ideal outfit for all the business meetings and lunch.
Or, this one. Matchy-matchy game strong.
Denim Jeans + Red Lace-Up Sandals
Isn't it fun to play with colour block while applying the trend formula?
Green Pants + Black Lace-Up Flats
Go with lace-up flats if heels aren't your thing. With addition of blazer, it brings out a formal-but-not-so-formal look.
These looks are amazing and cool. Simple, but with a twist. Also, just a little trick to make your outfit looks more expensive. So now, are you excited to try it already?
PopDaily Malaysia is officially online. Follow us on

Facebook & Instagram for more fashion and beauty tips, goodies and updates!