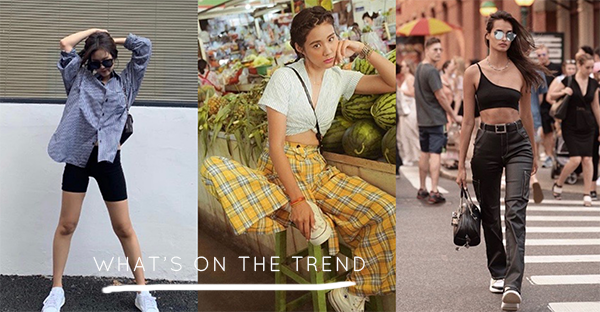 Ask Team #PopDaily: How To Freshen Up Your Ootd With 2019's Top 8 Fashion Trends
Hey, you. Stop wearing t-shirt and shorts. Time to update your wardrobe with something interesting and trendy. Life is too short to wear boring clothes.
While we don't get to attend fashion weeks, doesn't mean that we couldn't get the fashion trends memo. Just a quick scroll through Instagram, the streets already display not only the future but what's on trend right now. Here, we've rounded up fashion trends of 2019 and how you can style them to freshen up your #OOTD.
Read More: Ask Team #PopDaily: Attire For Presentations, How To Dress Professionally
Read More: Ask Team #PopDaily: Makeup Brush Cleaners That Keep Your Brush Look As Good As New
ASYMMETRICAL NECKLINE
Leave your off-shoulder behind because the asymmetric neckline is back and having its moment. It's the slanted-one-shoulder to feature your collarbone, neck and shoulder.
PLAID MADNESS
Plaid, it's you again. From everyone's off-duty favourite to one of the most stylish statements for both office and date nights looks. And we think that plaid blazer is a wardrobe essential everyone should own.
Or do it plaid on plaid.
BIKE SHORTS
You have no idea why everyone is wearing bike shorts all of a sudden. Not only a gym staple, style it with an oversized blazer to create an office look. Or we call it, business casual.
https://www.instagram.com/p/Bvw5qidgEwq/
ANIMAL PRINTS
Roar power vibbin'. It's shocking but true that animal print is headlining in the fashion chain. Leopard spots, snake skins, zebra stripes and more, they have become the new trend that has flooded our Instagram feed.
NEON
Wearing neon is a head-turner. Imagine if you wear it from head-to-toe, how can people not looking at you? Or if you think it's too much, do it with a set of neutrals and pops of neon.
https://www.instagram.com/p/BxHsr2AhoFm/?igshid=1mus45o9z8vm2
https://www.instagram.com/p/Bu_gqE7gTMF/?igshid=6p2nnp9mlae9
PUFF SLEEVES
The puffier the better! Dramatic and voluminous are best to describe the statement sleeves.
Read More: We Recommend You 4 Skincare Products To Get Rid Of Blackheads
Read More: Ask Team #PopDaily: 4 Trustable Taobao Stores With Korean Aesthetic You Need To Know
Read More: From Primer To Setting Spray, A Guide On How To Sweat-Proof Your Make Up
BUCKET HATS
One of the biggest trends right now. Never underestimate the power of bucket hats. It makes your outfits look more stylish and complete.
https://www.instagram.com/p/BtadC8dBq97/?igshid=vzwdz7tpk30q
Read More: These Mascara Make You Look Like Having Eyelash Extensions On (When You Really Don't)
Read More: Makeup Products From Kylie Cosmetics You Need To Add To Your Cart
Read More: The Newest Way To Wear Lace-Up Sandals, As Told By The Instagram Influencers
SQUARE-TOE SHOES
When it comes to 2019's biggest trend, how can we miss out the square-toe shoes? If you haven't tried it yet, you gotta be quick before it becomes mainstream!
Read More: The Newest Way To Wear Lace-Up Sandals, As Told By The Instagram Influencers
Read More: 7 Fashion Trends You Need To Know If You Love Korean Style
Read More: 18 Minimalist Nail Art Ideas Proving That Less Is More
PopDaily Malaysia is officially online. Follow us on

Facebook & Instagram for more fashion and beauty tips, goodies and updates!