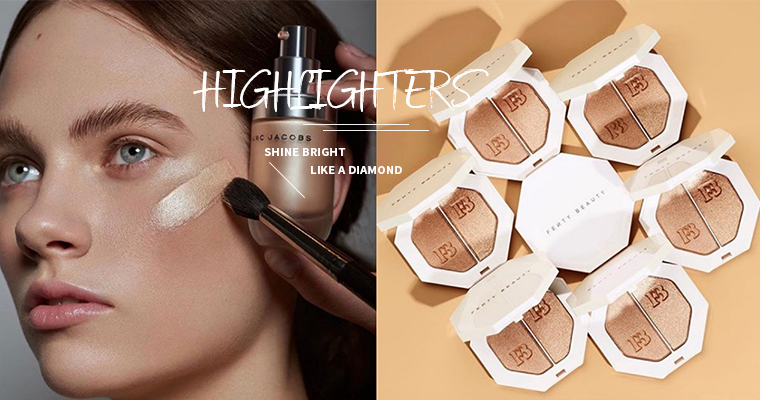 Recipe To Glowy Skin: These Highlighters Will Make You Shine Bright Like A Diamond
HELP. I don't have natural glowy skin, but I want that beautiful glow on my face. What should I do? Still remember years ago, we just applied some blush and bronzer and we called it "glowy". But now, there's this thing called "highlighters".
Whether you prefer to get your glow through powder, cream, stick or fluid formulations, a perfect highlighter should be able to apply on your cheekbones, down bridge of your nose, beneath the brow bone or at the inner corner of your eyes.
With overwhelming options available at the market, we understood, it's incredibly hard to pick a favourite. And that's why you are reading this, we are here to help you out. We picked 6 highlighters that will make you shine bright like a diamond!
Read More: These Mascara Make You Look Like Having Eyelash Extensions On (When You Really Don't)
NARS FORT DE FRANCE HIGHLIGHTING POWDER
No glitter, just glow. #FortDeFrance is a perfect champagne with warm undertones and a dewy finish. Also, it has silky and lightweight formulas which perfect for a natural glow or high impact shine. It doesn't look tacky or chunky at all on your face and suitable for all skin types. Nars never disappoint, you get what you pay for and that is quality.
NARS ORGASM LIQUID HIGHLIGHTER
Listen, it's ultra-lightweight. It's a rose gold shade with fine gold pearls and the bottle comes with a dropper to dispense the product. This liquid highlighter not only can be used alone on the high points of the face, but also can be used as a body highlighter. It's very watery so you can mix in your foundation or moisturizer to have the zero-effort glass skin.
Read More: We Recommend You 4 Skincare Products To Get Rid Of Blackheads
Read More: Ask Team #PopDaily: 4 Trustable Taobao Stores With Korean Aesthetic You Need To Know
Read More: From Primer To Setting Spray, A Guide On How To Sweat-Proof Your Make Up
BOBBI BROWN ALL OVER GLOW LIQUID HIGHLIGHTER
If you have really dry and dull skin, or when you want to look really dewy (not encouraged for oily skin), this is something perfect for you. All over glow liquid highlighter gives the skin the most glossy highlight without looking like you are trying too hard. To achieve the fresh sun-kissed look or supernatural glow, add a few drops of highlighter into your foundation.
PHYSICIANS FORMULA BUTTER HIGHLIGHTER #IRIDESCENCE
One swipe and it's more than enough to achieve the soft glow on your face. It truly smells amazing and gives your face a beautiful glow, not the glittery mess. The soft and creamy formulas make your face pop and shine naturally. If you are looking for a highlighter that won't break the bank, Physicians Formula butter highlighter in shade #Iridescence is highly recommended. (Or if you are interested, they have other shades too).
Read More: These Mascara Make You Look Like Having Eyelash Extensions On (When You Really Don't)
Read More: Makeup Products From Kylie Cosmetics You Need To Add To Your Cart
FENTY BEAUTY KILLAWATT FREESTYLE HIGHLIGHTER DUO
If you didn't know about Fenty's formula yet, here's it: just a little, it works a lot. Their Killawatt highlighter series is truly, incredibly lit. They have a smooth, soft and buttery texture, shimmery but not over-sparkly, and look especially good in natural lighting. We recommend the #MeanMoney + #Hu$tlaBaby duo to create a beautiful glow, especially when the sun hits your face. And seriously, everyone is buying it, you know it has to be good.
Read More: The Newest Way To Wear Lace-Up Sandals, As Told By The Instagram Influencers
Read More: 7 Fashion Trends You Need To Know If You Love Korean Style
MARC JACOBS DEW DROPS COCONUT GEL HIGHLIGHTER
First thing first, we would rate 10/10 on the simple yet classy packaging. It comes with two shades, which are #DewYou and #Tantalize. It gives your highlight a shot of skincare with five forms of coconut and Provitamin B5 helps hydrate and nourishes your skin. A little goes a long way, something just perfect for a golden glow.
These products are truly our top 6 best highlighters. Never say your makeup is complete without applying highlighters on your face. Let's glow and shine to blind people off!
Read More: 18 Minimalist Nail Art Ideas Proving That Less Is More
Read More: Ask Team #PopDaily: Makeup Brush Cleaners That Keep Your Brush Look As Good As New
PopDaily Malaysia is officially online. Follow us on Facebook & Instagram for more fashion and beauty tips, goodies and updates!