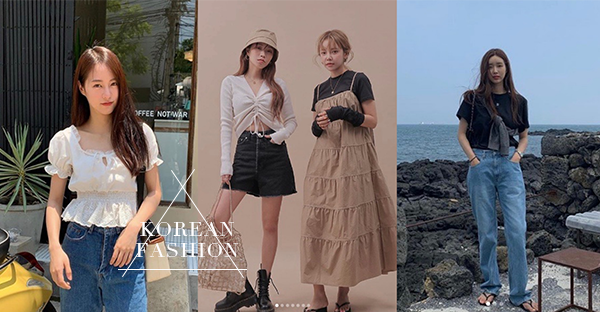 7 Fashion Trends You Need To Know If You Love Korean Style
If you are not into fashion trends from the west, you probably love fashion trends from the east, which is South Korea. As we all know, Korean fashion is taking over the world and it's something many of us look forward to.
Read More: Ask Team #PopDaily: Attire For Presentations, How To Dress Professionally
Read More: The Newest Way To Wear Lace-Up Sandals, As Told By The Instagram Influencers
The thing is, how to wear like a Korean even when you live in Malaysia? Here, we listed out 7 Korean fashion trends, which you are able to apply on your daily outfits, and people will be asking if you are Korean.
Baggy Pants
Take a break from your skinny jeans. When it comes to bottom pants, the bigger and baggier, the better. Some of you might think that baggy pants are too slouchy and not appropriate on some formal occasions. Uh oh, you are wrong. It just depends on how you style them with. Here's a little tip for you on how to wear baggy pants for formal functions: wear a button-up shirt with collar and tuck it into your baggy bottom, or a fit-tailored top with a blazer.
https://www.instagram.com/p/BznKu1SAe6M/
Read More: We Recommend You 4 Skincare Products To Get Rid Of Blackheads
Read More: Ask Team #PopDaily: 4 Trustable Taobao Stores With Korean Aesthetic You Need To Know
Read More: Makeup Products From Kylie Cosmetics You Need To Add To Your Cart
Oversize
For the Koreans, oversize is the best size. Oversize pieces like t-shirt, blazer and denim jacket bring a relaxed and casual vibe, also give you absolute comfort.
https://www.instagram.com/p/Bx9cYwAntLG/
Read More: The Best Seller Lipstick Shades You Should Own If You Are Big Fans Of MAC
Dress Layering
Do you have a slip dress or any strappy dresses in your closet? Besides wearing them alone, you can layer them with a basic tee to create a totally new look. One-piece, two ways.
Square-Neck Top
If you love wearing off-shoulder, square-neck might be the next thing you can't wait to try. The square-neck top brings a flirty, romantic, feminine silhouette and keeps your outfit fresh.
Ruffles
Bold, elegant, feminine, grace and voluminous are best to describe ruffles piece. It's one of the biggest fashion trend and Koreans tend to handle it well.
Ankle Socks
Wearing ankle socks with heels, sandals, sliders and sneakers are major hits in Korea but we know, some of you are not into this trend. Maybe it looks weird and dorky at first but the more you look at it, the more it makes sense. Why not give it a try? Yay? Nay?
https://www.instagram.com/p/BuinCP3HCIP/
Hair Accessories
Accessories like fancy hair clips, pins, scrunchies, silk scarf, headbands are fun and give you an extra feminine silhouette. They are not only for little girls now, but women.
Read More: From Primer To Setting Spray, A Guide On How To Sweat-Proof Your Make Up
Read More: These Mascara Make You Look Like Having Eyelash Extensions On (When You Really Don't)
PopDaily Malaysia is officially online. Follow us on Facebook & Instagram for more fashion and beauty tips, goodies and updates!