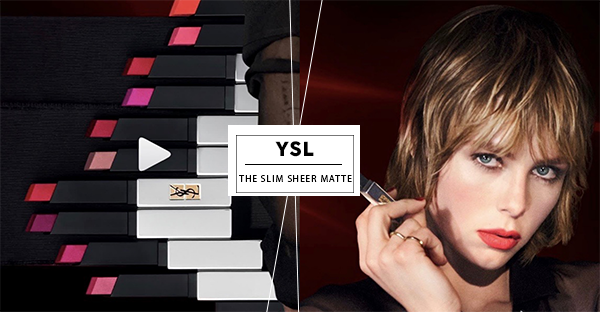 YSL Beauty's Latest Launch: The New Slim Sheer Matte, Coming Soon To You This October
We need your attention, ladies. Get ready to meet new members from the Rouge Pur Couture family – The Slim Sheer Matte. The only lipstick you will want to have on hand this season and coming soon to you this October in Malaysia.
Read More: Take A Peek On Korea's Cosmetic Brand, Moonshot – Cream Paint LightFit Series In Total 8 Shades
Read More:【Beauty Dispatch】Moonshot Drops Their Latest Collection – Rêve de Paris
https://www.instagram.com/p/B1ypDWhnS48/
The new Slim Sheer Matte is perfect to create the blotted lip look. It's a lightweight matte lipstick that delivers buildable, long-wearing and high-impact colour with an air-brushed finish. If you think using a matte lipstick will dry out your lips, reconsider it because The Slim Sheer Matte will prove you wrong.
It reduces the appearance of your lip lines and you'll be amazed by how moisturizing is it as a matte lipstick. Also, with the extremely strong staying power, no worries, mid-day touch-ups are not needed.
https://www.instagram.com/p/B10wG5gnF2i/?utm_source=ig_embed
Read More: Recipe To Glowy Skin: These Highlighters Will Make You Shine Bright Like A Diamond
Read More: These Are The Highest Pigmented And Budget-Friendly Eye Shadow Palette Ever
The lipstick is designed in a geometric square-shaped bullet which allows you to precisely line lips with the corner, then fill in your pout with the flat and slanted face. One layer for light coverage, 2 layers for medium coverage and 3 layers for full coverage!
https://www.instagram.com/p/B10v76WHg6C/
With a total of 12 colours ranging from classic reds, roses, berries, and bold pinks, they are suitable for any skin tones!
Read More: The Best Seller Lipstick Shades You Should Own If You Are Big Fans Of MAC
Read More: Makeup Products From Kylie Cosmetics You Need To Add To Your Cart
#101 Rouge Libre
Source: yslbeautyus.com
#102 Natural Pink
Source: yslbeautyus.com
#103 Orange Provuquant
Source: yslbeautyus.com
Read More: We Recommend You 4 Skincare Products To Get Rid Of Blackheads
Read More: These Mascara Make You Look Like Having Eyelash Extensions On (When You Really Don't)
#104 Fuchsia InTime
Source: yslbeautyus.com
#105 Contrary Fuchsia
Source: yslbeautyus.com
#106 Pure Nude
Source: yslbeautyus.com
Read More: From Primer to Setting Spray, A Guide On How To Sweat-Proof Your Make Up
Read More: 18 Minimalist Nail Art Ideas Proving That Less Is More
#107 Bare Burgundy
Source: yslbeautyus.com
#108 Rouge Devetu
Source: yslbeautyus.com
#109 Rose Denude
Source: yslbeautyus.com
Read More: 7 Fashion Trends You Need To Know If You Love Korean Style
Read More: 5 Online Fashion Stores In Malaysia That Will Dress You Like A Korean
#110 Berry Exposed
Source: yslbeautyus.com
#111 Corail Explicite
Source: yslbeautyus.com
#112 Raw Rosewood
Source: yslbeautyus.com
Selling at the price RM142, you are able to get them through ysl.com.my or visit their retail stores. If you couldn't decide which shade to go, here's a suggestion: bring all of them home!
PopDaily Malaysia is officially online. Follow us on Facebook & Instagram for more fashion and beauty tips, goodies and updates!