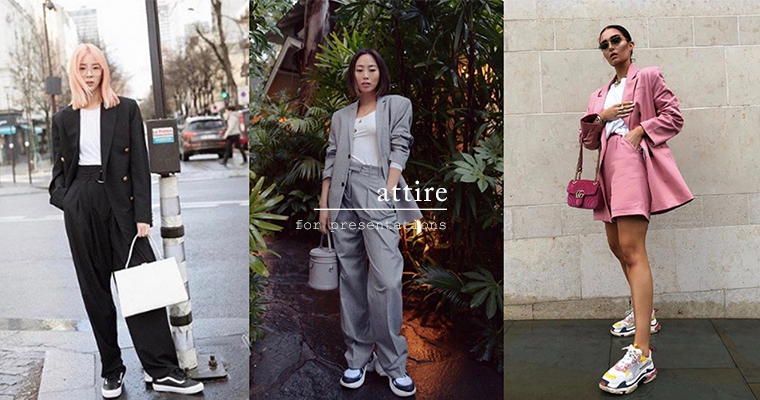 Ask Team #PopDaily: Attire For Presentations, How To Dress Professionally
Having presentations in front of your classmates, professors, bosses or colleagues might be a nerve-wracking moment to some of you. Just so you know, we have seen a lots of button-down white shirt and black tight skirt at college or office during a presentation. Not saying that it's boring but hey, it can be more fun and creative, something that make your audience think you're worth their attention. The question is, what should we wear to look professional?
Trust it or not, first impressions do matter. Dress yourself, wear something you are comfortable in (but not too causal), being well-presented will boost your confident! Here, we suggested 5 statement pieces that will make you feel good and look good.
MATCHING SUIT IN BLACK / COLOURS
First of all, let's talk about the traditional black suit, the one you will never go wrong with. Wear it with sneakers, backless loafers or a pairs of comfortable heels. And if you have long hair, tie it in a bun or pony tails. Ok, you are good to go.
In another case, if your office or lecture you are in has a more creative flair, you can go with matching suit in colours. Not into bright colours? No worries, neutral or muted tones are fine.
MATCHING SHORTS SUIT
I guess most of you have seen this matching shorts suit outfit all over social media. No doubt, it's on trending. But more heat-friendly for people like us living in this tropical weather and still want to look chic.
PENCIL / MIDI SKIRT
Leave all your mini skirts at home, but go with longer length like pencil or midi skirt. They are both similar piece. With high-waisted, they will actually make your legs look longer and slimmer. If you want to be more perfect, choose the one length below the knee to mid-calf, it will help contour your body shape. Style them with a classic tee or long-sleeve blouse and tucks everything in to create a more edgy and lady-like look.
TROUSERS
When we come to "formal" or "business", trousers will always be our options. Besides the traditional black trousers, it can be wide-leg or cropped, and even with plaids. To be more outstanding, play with accessories like a statement earrings or necklace in layers.
BUTTON-DOWN DRESS / WRAP DRESS
Guess this is the no-brainer-outfit. Imagine you probably spent the whole night doing powerpoints and all the memorizing works, you either sleep a little or literally no sleep at all. An one piece button-down dress or wrap dress will be your best choice the next morning. With a pairs of comfortable loafers or sandals, quick and easy, outfit problem is solved and you are ready to go.
Bear in your mind, we dress to impress, especially on presentations or speech. Never underestimate what clothes can do for the brain. Ready for your presentation now? We wish you best of luck!
PopDaily Malaysia is officially online. Follow us on

Facebook & Instagram for more fashion and beauty tips, goodies and updates!