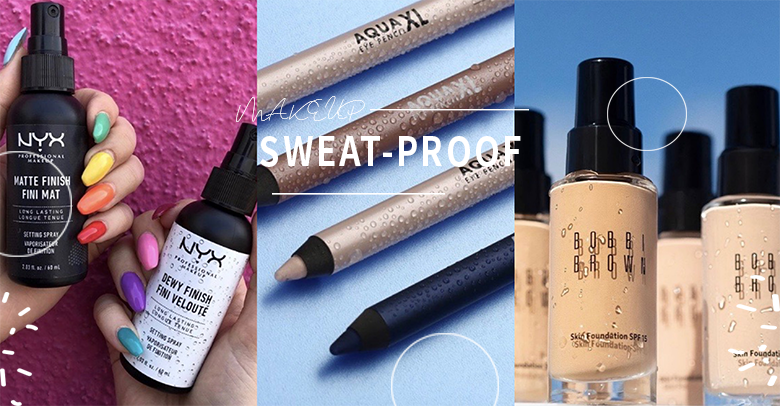 From Primer To Setting Spray, A Guide On How To Sweat-Proof Your Make Up
What first comes to your mind when you think of summer? The scorching sun, sweaty skin or the melted make up face?
Living in this tropical weather in Malaysia, we always have to deal with the HEAT. Along with the heat comes the melted make up face, and ain't nobody got time for that! We feel you ladies, and we are guiding you on how to sweat-proof your make up. From how you prep your skin to the setting sprays you use to lock everything into place, you will want to jot down all of these necessities.
1. PRIMER BEFORE FOUNDATION
Some of you might be asking: Does primer actually make a difference? To be honest, yesssss. It's a base before foundation and it helps your foundation go on smooth and stay in place throughout the day.
Sofina Primavista Long Keep Base UV SPF20
Hands down the best oil-control primer out there on the market. Girls with oily skin, this is for you. Watery texture, but it keeps your skin matte and no more cakey foundation! We can't seem to find their international website, but it is available at iPrice Malaysia, Sasa, Lazada and Amazon.
M.A.C Prep+Prime Natural Radiance
It's a makeup primer that's specifically beneficial for oily and combination skin types, but according to the product reviews, some of them with normal-dry skin loves it too. Not only moisturizes and helps your foundation to glide on, but this primer also has little flecks of shimmer which helps to give your foundation a glow.
It's in two shades: radiant yellow and radiant pink. Yellow is effective on deeper skin tones while pink for fairer skin tones. You can find it at M.A.C cosmetics stores or Sephora Malaysia.
NYX Hydra Touch Primer
One of the best primers for normal-dry skin! It's a refreshing lightweight gel-cream with a fresh cucumber-like fragrance. It also enhances your complexion and hydrates your skin at the same time.
2. USE LIGHTWEIGHT FOUNDATION
Foundation is such a personal thing, it isn't going to be everyone's cup of tea. Also it must suit your skin type (else you will look like an oily frying pan).
Revlon Colourstay 24 Hour Foundation
If you are looking for a long-lasting foundation that won't break the bank, this is the one. It has two types: For normal/dry skin with SPF 20 and for combination/oily skin with SPF 15. It also comes with various shades and has medium coverage.
Bobbi Brown Skin Long-Wear Weightless Foundation SPF15
No matter you have normal or oily skin and looking for a silky and weightless foundation, this is something you need to try. Described by the brand, it's a full coverage foundation that delivers a natural matte finish. It also helps to conceal redness and improves your complexion. How weightless is it? It feels like your second-skin, waterproof and sweat resistant. Sounds good. Perfect for hot weather!
NARS All Day Luminous Weightless Foundation
It's a foundation for all skin types and has 20 shades. Lightweight, full coverage, luminosity, last long for 16 hours with just one drop. And most importantly, humidity and sweat resistant!
3. WATERPROOF EYELINER
Imagine if one eyeliner is not waterproof or sweat-resistant, oh no, everything is smudged. You get the picture, it's horrible.
Kiss Me Heroine Make Smooth Liquid Eyeliner
Best drugstore eyeliner ever. Besides waterproof, sweat and tears proof, this liquid eyeliner comes with a quick-dry formula to prevent smudges and smears. With the ultra-fine tip which is 0.1mm, it gives you total control to create precise lines and perfect flicks. Want more? It's long-wearing and without the need of touch-ups!
Make Up For Ever Aqua XL Eye Pencil Extra Long Lasting Waterproof Eye Pencil
Due to the long-lasting formula, this eye pencil will not smudge, crease or fade until you remove it.
https://www.instagram.com/p/BwCm1mTDRPC/
Available in 20 shades, it features shades that range from everyday neutrals to bright pastel pops. For the everyday look, we recommend the shade #M10-matte black, #M14-matte charcoal grey, #S50-satiny taupe and #M60-matte dark brown.
https://www.instagram.com/p/Bv9zazGDQ3U/
4. USE SETTING POWDER AND SETTING SPRAY
How can someone with makeup live without setting powder or setting spray? Like what we've mentioned before, you need them to lock everything into place, especially in this blistering heat!
Make Up For Ever Ultra HD Microfinish Powder
Ultra HD powder is a super high definition and weightless finishing powder that makes your skin look flawless. It's now an essential step to create a smooth and airbrushed makeup look. This loose powder is perfect for every skin tones too, we really love how it blurs out all the skin's imperfections.
https://www.instagram.com/p/BztNLhMj4md/
Tarte Smooth Operator Amazonian Clay Finishing Powder
This microfine loose powder balances all skin types to absorb oil and minimize the appearance of pores. It blends into any skin tone effortlessly and set your foundation into a breathable matte finish. If you have extremely oily skin, this is a lifesaver!
Source: Sephora's official website
NYX Professional Matte/Dewy Finish Setting Spray
NYX setting spray is one of the makeup products that everyone raves about. But some of you might be having this question: What are the differences between matte and dewy? It depends on your skin type. If you have oily skin, we would not recommend the dewy spray. If your skin is normal or dry, stay away from the matte.
Urban Decay All Nighter Setting Spray
Listen, this spray gives your makeup a serious staying power without melting and fading. Unlike similar products on the market, this spray has microfine mist that goes on light and weightless until you hardly feel it.
5. BRING ALONG OIL CONTROL FILM
In case if you are still afraid of the heat and sweats even after applying all the sweat-proof and long-lasting makeup products, bring along oil control film to remove excess oil and stickiness instantly. Keep your skin fresh and clean!
Clean & Clear Oil Control Film
That's it for the guides. Also, stay indoors to avoid the scorching sun. Hope our picks of these sweat-proof beauty products are helpful!
PopDaily Malaysia is officially online. Follow us on

Facebook & Instagram for more fashion and beauty tips, goodies and updates!