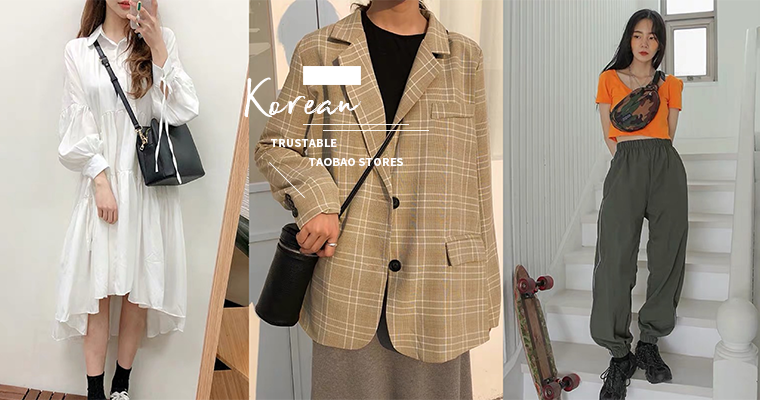 Ask Team #PopDaily: 4 Trustable Taobao Stores With Korean Aesthetic You Need To Know
Taobao, owned by Alibaba Group has become the biggest online marketplace in Asia. If you are a constant buyer at Taobao, with over one billion product listings, you know that it's risky yet exciting to shop from Taobao. Some items are incredibly cheap, but maybe not for the quality. And of course, there are some inexpensive items with high quality too. That's why Taobao is usually the first place we look at.
In our previous post, we just talked about online shopping stores in Malaysia which bring the major Korean-fashion-vibes off. Now, we are going to recommend you 4 trustable Taobao stores with huge Korean aesthetic.
Read More: We Recommend You 4 Skincare Products To Get Rid Of Blackheads
Read More: Ask Team #PopDaily: Attire For Presentations, How To Dress Professionally
Fashion pieces in Muzly are not overly fancy but minimal and baggy. They have a price range from RM11 to RM85, which is super affordable! If you are looking for an oversized blazer, plaid design, puff sleeve and baggy bottom, Muzly is one of the best places to shop.
Oversize blazer in black to create a business casual look.
Also, in plaids.
These baggy pants has the secret on how to look taller.
Irregular one-piece dress, style it with your buns up to look fresher!
Source: Muzly韩系女装
From very tomboy-ish to girlish, Loveheynew offers a wide range of Korean fashions include clothing, accessories, bags, hats and shoes. With the price range from RM6 to RM235, Loveheynew is slightly pricier with higher quality.
Such a pretty piece with puff sleeves and statement buttons. Be ready for questions like "where did you buy this outfit at"!
Square-neck top with ruffles and floral prints, everything about K-fashion trends.
When the weather is too hot for long denim jeans, wear dad shorts instead!
Who doesn't love wearing a matching suit? Now you are able to purchase this full suit from Loveheynew.
Source: LOVEHEYNEW
Just like the name of the store, visit 黑妞 if you want to dress like a Korean. They have a price range from RM15 to RM80.
Graphic tee in orange, which goes well with every bottom.
Maybe you should start investing in pink?
Or more colours like this, they call it "the mermaid colour".
Bloom pants when skinny jeans are too boring.
Source: 黑妞黑妞!韩国girl小站
Seems like it's inspired by the biggest Korean brand – Stylenanda, 韩国chic 韩系女装 offers the typical girlish Korean wear with a price range from RM5 to RM87.
Oversize cardigan for the sweater weather!
Ruffles and square-neck, yeah typical Korean trends.
The eye-catching puff and voluminous sleeves in burnt orange, how can people not look at you on the streets?
More puffs and square-neck(s).
Source: 韩国chic 韩系女装
Read More: Ask Team #PopDaily: Attire For Presentations, How To Dress Professionally
Read More: From Primer To Setting Spray, A Guide On How To Sweat-Proof Your Make Up
Read More: These Mascara Make You Look Like Having Eyelash Extensions On (When You Really Don't)
Read More: Makeup Products From Kylie Cosmetics You Need To Add To Your Cart
PopDaily Malaysia is officially online. Follow us on Facebook & Instagram for more fashion and beauty tips, goodies and updates!