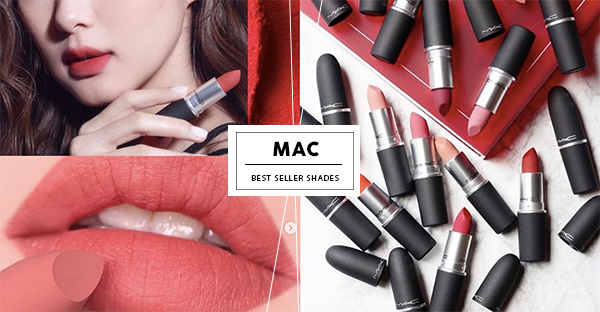 The Best Seller Lipstick Shades You Should Own If You Are Big Fans Of MAC
Check your bag, do you have any MAC lipsticks inside? Or you have a bundle of them?
The bullet-inspired cases MAC lipsticks can be found in almost every makeup bag. Agree or not, they have already become one of the must-have lipstick for every girl that wears makeup. Regardless you are a beginner or makeup guru, especially if you love lipstick from MAC, here are the 6 best seller lipstick shades you should own.
#RubyWoo / RM84
Let's get started with the most famous retro matte lipstick, Ruby Woo. With a long-wearing formula, an intense colour payoff and a matte finish, Ruby Woo is a vivid brightly coral-red which flatter almost everyone, especially if you have pale skin tone.
#Chili / RM84
This shade was so hyped up in Asia. As a matte lipstick, it has a creamy formula with a high colour payoff in a no-shine matte finish and Chili is a brownish orange-red. With the orange undertones, Chili is best for dark skin.
#DevotedToChili / RM84
Devoted To Chili is a powder kiss lipstick with moisture, matte and weightless formula. It is a warm brick red and can blur your lip lines, smooth your lips to create a soft-focus look and a hazy effect.
So pretty on cheeks too!
#Brick-O-La / RM84
One single swipe and you will get the pop of colour on your lips. If you want a darker shade, go over it twice. Brick-o-la is a pretty salmon shade that is pinker than natural lip colour, which its ultra-creamy formula features a smooth glide and bold colour payoff. If you have pale to fair and medium skin tones, brick-o-la is something you need to try.
#MullItOver / RM84
Mull It Over is a muted, medium rosy coral with warm undertones and it's a dirty peach described by the brand. Its formula contains moisture coated powder pigments that will hydrate your lips and reduce the appearance of lip lines to create a romantic and effortless soft-focus look.
#VelvetTeddy / RM84
If you have olive skin tone or if you love to keep your makeup neutral, try out the pigmented nude lipstick – Velvet Teddy. It's a deep-tone beige in which the shade is pale but slightly darker than natural lip colour, which perfects for everyday wear.
MAC's matte formula is well known as comfortable to wear all day long. Their lipsticks have both creaminess and staying power with only one very minor touch-up after lunch. If you are a MAC beginner, these are the lipstick shades you can start with. And be prepared, for non-stop compliments all season long!
Read More: Makeup Products From Kylie Cosmetics You Need To Add To Your Cart
Read More: From Primer To Setting Spray, A Guide On How To Sweat-Proof Your Make Up
PopDaily Malaysia is officially online. Follow us on Facebook & Instagram for more fashion and beauty tips, goodies and updates!