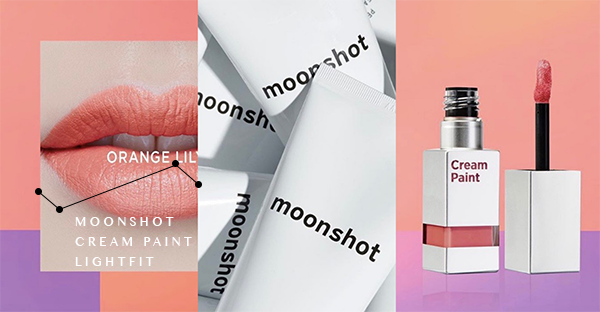 Take A Peek On Korea's Cosmetic Brand, Moonshot – Cream Paint LightFit Series In Total 8 Shades
In Malaysia, most of us know some of K-beauty's big names like 3CE, Etude House and Innisfree. But, have you heard of Moonshot Cosmetics? If you haven't, don't consider yourself a vast K-beauty fan because you are not qualified yet.
Moonshot is a cosmetics brand from Korea, created by YG Entertainment, which is the label behind K-POP artists like BlackPink, Winner, and IKON. Moonshot then further expand overseas like Japan, Hong Kong, Thailand, Indonesia, Philippines, and of course, Malaysia. With their trendy, bold and classic products, Moonshot has become one of the biggest cosmetics brands in K-beauty society.
Read More: The Best Seller Lipstick Shades You Should Own If You Are Big Fans Of MAC
Read More: These Are The Highest Pigmented And Budget-Friendly Eye Shadow Palette Ever
Today, we are showing you Moonshot Cream Paint LightFit series, in total 8 shades, ranging from red, pink, orange and brown. With the matte texture, weightless formula, high pigmentation, and velvet-matte finish, they are the perfect MLBB (my lips but better), which makes your lips look like your lips but in a better, cuter and fresher condition.
Read More: Recipe To Glowy Skin: These Highlighters Will Make You Shine Bright Like A Diamond
Read More: We Recommend You 4 Skincare Products To Get Rid Of Blackheads
With the curvy and S-finger-tip designed on the applicator, it makes the application works easier and smoother!
Read More: 18 Minimalist Nail Art Ideas Proving That Less Is More
Read More: Ask Team #PopDaily: Makeup Brush Cleaners That Keep Your Brush Look As Good As New
All shades are specially designed to fit Asian skin tones and can be used for both lips and cheek. Beware of your wallet, in case you will accidentally, or automatically go to their website, add to the cart and check out!
CREAM PAINT LIGHTFIT

#M115
Coral Chou, a coral shade that makes your skin looks fairer when you apply it on your lips.
CREAM PAINT LIGHTFIT

#M116
Love Drunk, a bright baby pink shade.
CREAM PAINT LIGHTFIT

#M117
Hey Rosa, a cool-tone-pink shade.
https://www.instagram.com/p/Bh_WQ-Lgxpl/
CREAM PAINT LIGHTFIT

#M118
Red Mellow, a bright red tone which can be a statement for your whole makeup look.
Read More: Makeup Products From Kylie Cosmetics You Need To Add To Your Cart
Read More: These Mascara Make You Look Like Having Eyelash Extensions On (When You Really Don't)
CREAM PAINT LIGHTFIT

#M211
Orange Lily, a warm orange shade.
CREAM PAINT LIGHTFIT

#M212
Pale Leaves, a coral shade with a hint of brown.
Read More: 5 Online Fashion Stores In Malaysia That Will Dress You Like A Korean
Read More: Ask Team #PopDaily: 4 Trustable Taobao Stores With Korean Aesthetic You Need To Know
CREAM PAINT LIGHTFIT

#M811
Nudy Branch, a true brown shade.
CREAM PAINT LIGHTFIT

#M812
Vintage Dress, a lighter brown shade and it's slightly toned up compared to #M811.
Read More: From Primer to Setting Spray, A Guide On How To Sweat-Proof Your Make Up
Read More: 7 Fashion Trends You Need To Know If You Love Korean Style
This series is one of the best-selling products in Moonshot, each Cream Paint LightFit is sold at RM88 at Wooh.my. You may visit their outlets at Pavilion, Sunway Pyramid, 1Utama, Penang Gurney Plaza and Ipoh Parade to check out more. Also, Moonshot's Rêve de Paris Collection is coming soon, stay tuned!
PopDaily Malaysia is officially online. Follow us on Facebook & Instagram for more fashion and beauty tips, goodies and updates!