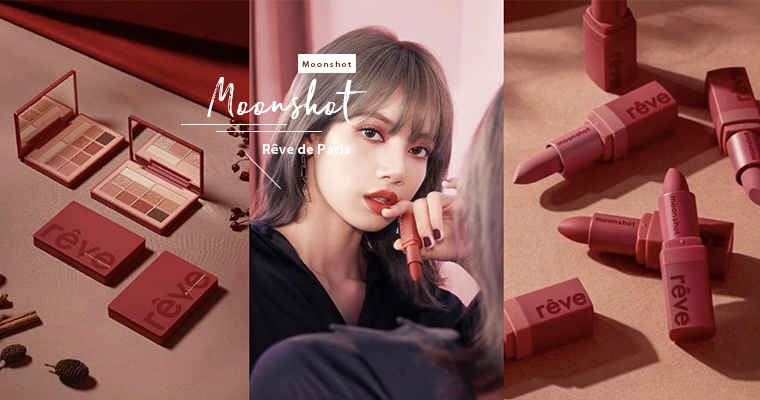 【Beauty Dispatch】Moonshot Drops Their Latest Collection – Rêve de Paris
Remember we just talked about Moonshot's Cream Paint LightFit series in our previous article? And now Moonshot just released their latest collection, Rêve de Paris which is inspired by the Parisian, includes an eye shadow palette and Stick Extreme Pro lipsticks in total 6 shades!
Read More: Makeup Products From Kylie Cosmetics You Need To Add To Your Cart
Read More: The Best Seller Lipstick Shades You Should Own If You Are Big Fans Of MAC
According to Moonshot Malaysia, they are having a limited offer starts from 27/9/2019 at Wooh.my. Preorder the Rêve de Paris bundle set which consists of one eyeshadow palette and one Rêve de Paris Stick Extreme Pro lipstick (on your own preference) for RM199 only (worth RM226). Also, the first 100 customers will receive a limited edition Moonshot Eco Bag for free!
https://www.instagram.com/p/B23EZFFB0Oq/
Before you place your order, let us introduce to you what's good in the collection!
Rêve de Paris Eye Shadow Palette
With a total of 10 colours in one palette ranging from pink to brown, the French-inspired shadow palette brings an elegant vibe for your makeup look and it's designed in the perfect size for your pouch.
Read More: These Are The Highest Pigmented And Budget-Friendly Eye Shadow Palette Ever
Read More: Recipe To Glowy Skin: These Highlighters Will Make You Shine Bright Like A Diamond
It has a soft texture with double coated powder, which reduces the flying powder and is gently adheres to it. Just a single swipe on your eyelids, and you'll be surprised at how high pigmented it is!
Source: Wooh.my
Stick Extreme Pro Lipstick
First thing first, high pigmented and long-lasting are the keys. With a total of 6 different shades that are all appropriate for your daily routine, each lipstick has a smooth texture and velvet-matte finish.
Read More: We Recommend You 4 Skincare Products To Get Rid Of Blackheads
Read More: 18 Minimalist Nail Art Ideas Proving That Less Is More
Source: Wooh.my
#601 SEINE
The Seine is a romantic nude rose that gives you the natural lip look. It's the safest and perfect shade that will look good on everyone.
Source: Wooh.my
#602 CHAI TEA
Chai Tea is an orange-brown with a warm undertone, which works really well on a fairer skin tone.
Source: Wooh.my
#603 ROSE BONBON
Rose Bonbon is a pink-red shade, which is slightly toned-up than #601.
Source: Wooh.my
#604 URBAN MAUVE
Urban Mauve is a mauve pink infused with dried rose and a drop of plum light.
Source: Wooh.my
#605 IN THE CITY
In The City is a maple burgundy, perfect shade to welcome the Autumn.
Source: Wooh.my
#606 MOULIN ROUGE
Moulin Rouge is a chili red, the all-time classic and confidence booster!
Source: Wooh.my
As we've mentioned before, you can join their limited offer and place your order through wooh.my or visit their outlets at Pavilion, Sunway Pyramid, 1Utama, Penang Gurney Plaza and Ipoh Parade. Be quick girls!
Read More: Ask Team #PopDaily: Makeup Brush Cleaners That Keep Your Brush Look As Good As New
Read More: These Mascara Make You Look Like Having Eyelash Extensions On (When You Really Don't)
Read More: From Primer to Setting Spray, A Guide On How To Sweat-Proof Your Make Up
PopDaily Malaysia is officially online. Follow us on Facebook & Instagram for more fashion and beauty tips, goodies and updates!