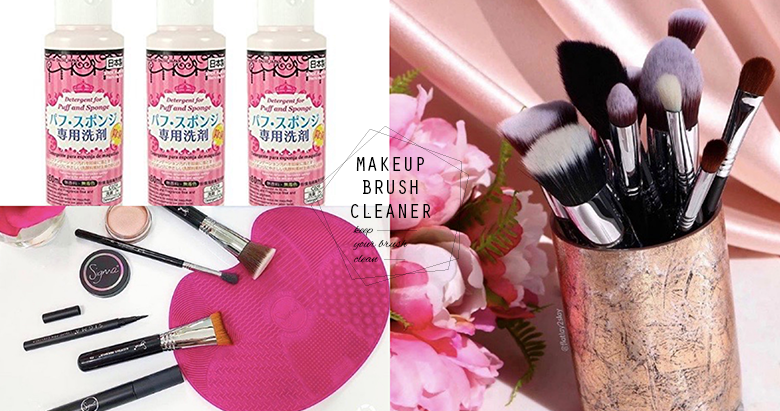 Ask Team #PopDaily: Makeup Brush Cleaners That Keep Your Brush Look As Good As New
First of all, how often do you clean your makeup brushes? Once in a week or twice a month? I guess some of you probably did not clean your makeup tools at all, or you might not know exactly how you should be cleaning them.
Alright, alright. We know, cleaning your makeup brushes is a boring task and one of the easiest things to procrastinate. However, not washing your makeup brushes can cause a build-up of bacteria and skin breakout. Here, we recommend you 4 makeup brush cleaners to keep your brushes clean and save you from waking up to a new pimple every morning.
Baby Shampoo
The most budget-friendly one and you probably already have one at home. First, put a small amount of baby shampoo in the palm of your hand. Take one of your brush and gently rub them in the shampoo, then run it under warm water until the water runs clear. After squeezing the excess water from the brush hairs, lay them on a clean towel. That's it!
Read More: We Recommend You 4 Skincare Products To Get Rid Of Blackheads
Read More: Ask Team #PopDaily: 4 Trustable Taobao Stores With Korean Aesthetic You Need To Know
The Daiso Detergent For Puff And Sponge
They call this thing – stuff of legends. It's cheap but it works amazingly. If you are trying to get rid of the stains on your foundation sponges, this is something perfect for you. However, you are not encouraged to use it on your natural hair brushes because it's too harsh for them.
Source: Amazon
Read More: Ask Team #PopDaily: Attire For Presentations, How To Dress Professionally
Read More: The Best Seller Lipstick Shades You Should Own If You Are Big Fans Of MAC
SigMagic Brushampoo Brush Cleanser
Just a little amount and it will do the job. Gentle, natural and incredibly effective. It's a natural brush cleanser that deep-cleans your brushes with a liquid formula while protecting the longevity of your brushes. You are able to get them at Sephora too!
Read More: From Primer To Setting Spray, A Guide On How To Sweat-Proof Your Make Up
Read More: These Mascara Make You Look Like Having Eyelash Extensions On (When You Really Don't)
Sigma Spa Brush Cleaning Mat
Rubbing your brushes while cleaning them with fingers might take a long time and it's quite tiring, so a cleaning mat from Sigma might help, which is an innovative hands-free tool cleaning device! Described by the brand, it has seven different texture choices that clean makeup brushes when you rub or sweep the brush heads against the mat. Designed with suction cups on the backside, this mat will securely place on flat surfaces and it also fits most sinks. Also, you are able to find it at Sephora!
See, cleaning your makeup brushes can be so convenient now and you should really stop procrastinating. Better to take five to fifteen minutes to clean them than suffer from skin breakout. We are not kidding, better take your brushes and rush to your washroom now!
Read More: Makeup Products From Kylie Cosmetics You Need To Add To Your Cart
Read More: The Newest Way To Wear Lace-Up Sandals, As Told By The Instagram Influencers
Read More: 7 Fashion Trends You Need To Know If You Love Korean Style
PopDaily Malaysia is officially online. Follow us on Facebook & Instagram for more fashion and beauty tips, goodies and updates!